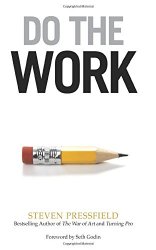 My Rating: 7 /10
Title: Do the Work
Author: Steven Presfield
Short but sweet; and just what I needed.
Start Before You're Ready
Resistance is your enemy. Resistance to do the work. Resistance to stop in your tracks. Resistance that presses you to turn around. So start before you're ready. Start before you know everything. The more you know about how difficult your task is – the more you will feel resistance. Sometimes blind faith and ignorance is preferable.