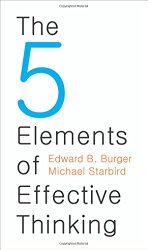 My Rating: 4 /10
Title: The 5 Elements of Effective Thinking
Author: Edward Burger and Michael Starbird
Some interesting points were made in this book, but mostly was a rehash of common ideas. Several years ago I may have rated the book higher, but now I found it very academic and student-focused. Just not what I was really looking for.
The Elements
Learn from Fundamentals
Make mistakes.
Question everything
Let ideas flow
Embrace change
Overall, fairly stock standard stuff.
---
Check out Derek Sivers' book notes if you want more detail. For what it's worth he gave the book a 9/10.
Also, check out the Amazon page for other peoples reviews.
– Stephen