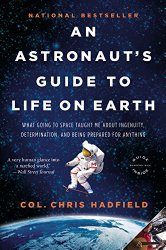 My Rating: 8 /10
Title: An Astronaut's Guide to Life on Earth
Author: Chris Hadfield
Competency. That's now the word I associate most closely with astronauts. They embark on a long, seemingly never-ending road of training to improve their skills and abilities. All with very limited chances of making it into the space program. And then, once they are in, only a very limited chance to actually make it onto a space-flight. Orbiting at an altitude of 400 km does come with it's benefits though. For instance, you can do things like this:
A few quick lessons can be learned from the life of an astronaut:
Consistently working hard over an extended period of time can get you places. Extended periods of time are measured in years and decades – not weeks or months.
Always prepare for the worst and ask yourself, "what can kill me next?" When the worst doesn't happen, you will over-deliver.
When you're new, just aim not to make things worse. Once you're contributing positively, don't get cocky.
Take the time to experience the environment around you.
It's okay to have big goals. However you won't always reach them. Give yourself the best shot by continually readjusting course at each major decision point in your life.
---
I first came across this book after watching Chris Hadfield's Ted Talk. That talk provides a good litmus test. If you find it interesting then you will probably enjoy the book. Also can you can click here to read other people's reviews and thoughts of An Astronaut's Guide to Life on Earth.
Share this: